In the past few days, everyone in the fashion realm has been buzzing with excitement about mainly two events: the Fashion Week marathon (still taking place, currently in Paris), and the Oscars red carpet royalty.

It's easy for us to observe the frenzy and glamour from afar, and feel a little envious that we can't participate in all the fun. Luckily, there is a way that both of these major international fashion events speak to us on a smaller, everyday style scale.

Behold: the intersection of trends that we can adopt from the recent fashion week/Oscars phenomena. Take note, and add these to your wardrobes for the coming season!

Firstly, we will start with this crowd-pleaser from The Academy Awards - worn by the bewitchingly beautiful Michelle Williams.
This stunning coral / orange Louis Vuitton strapless gown will sing to AW12 trends that are set to soar (and still going strong from Spring) - 1. Pops of orange, and 2. The peplum! It's not always the case that two big trends will work together in the same outfit, but Michelle's dress strikes the right balance for both.
Various fashion week street shots, and Mulberry dress

Spin Dizzy Fall, Bally, Zooey Deschanel in Moschino, Elie Tahari

Dress number 2: The coveted white Tom Ford dress worn by Gwyneth Paltrow. This look is just perfect for her. There are two trends emerging here as well: the minimalist, clean white cut, and the cape! It's such a fresh, contemporary and elegant outfit. The accented shoulders are also an important feature of this dress. I love seeing subtle, edgy details added to the typically classic gowns at red carpet events!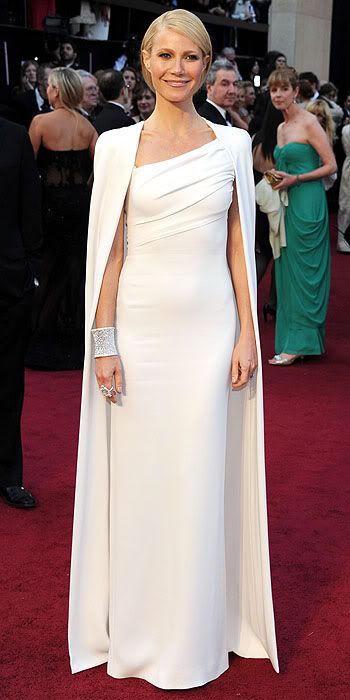 Vogue Spain bridal image, Dion Lee, StyleStalker, Poppy Delevigne

Street style images (Jak and Jil & Tommy Ton), Vogue Spain bridal image

For this next trend, we can combine a few Oscars outfits: Rose Byrne looking divine in Vivienne Westwood, Milla Jovovich's Elie Saab gown (one of my personal favourites), and Alexandra Edenborough's elegantly embellished gown by Yves Saint Laurent. A handful of other stars donned sequins and shimmering dresses, including award winner Meryl Streep.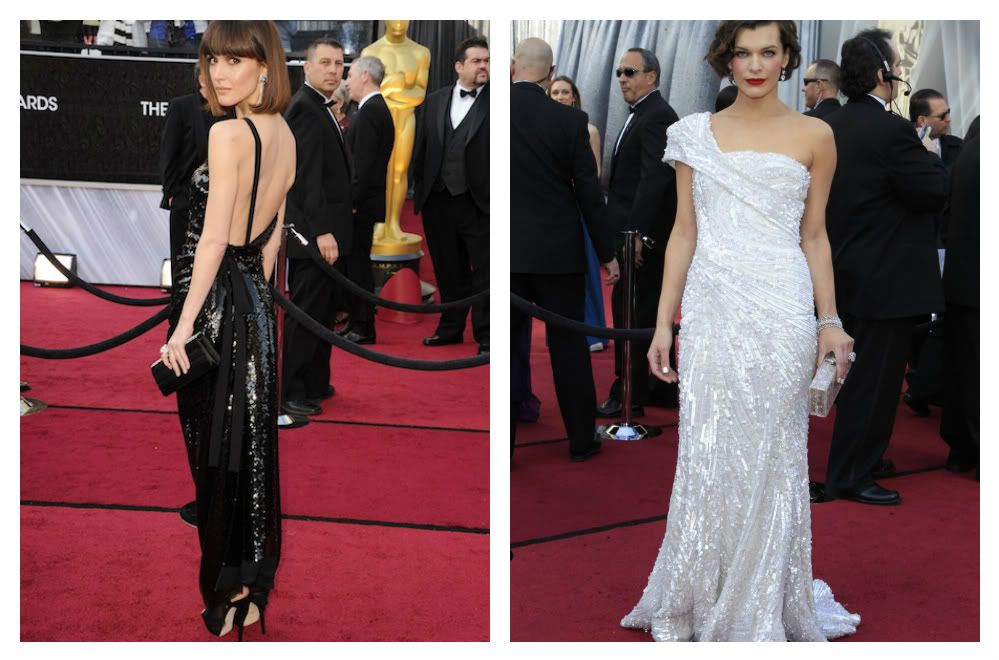 Trend: SEQUINS, EMBELLISHMENT, AND ALL THAT GLITTERS
Zadig Voltaire, Tommy Ton images of Fashion Week style

Sequins and sparkles are a staple for evening glamour, but it's a trend that's definitely having success worn in more casual, day time outfits! You'll notice sequinned blazers, skirts, and sequin-collared blouses are on the rise.
On that note, we lead into metallic opulence. Here is Jessica Chastain in an exquisite masterpiece by Alexander McQueen. I'm really pleased that she didn't use fake tan (or at least if she did, it's very subtle and natural) because I feel that her porcelain skin really suits the dress, and its nod to the decorative elegance of the Renaissance.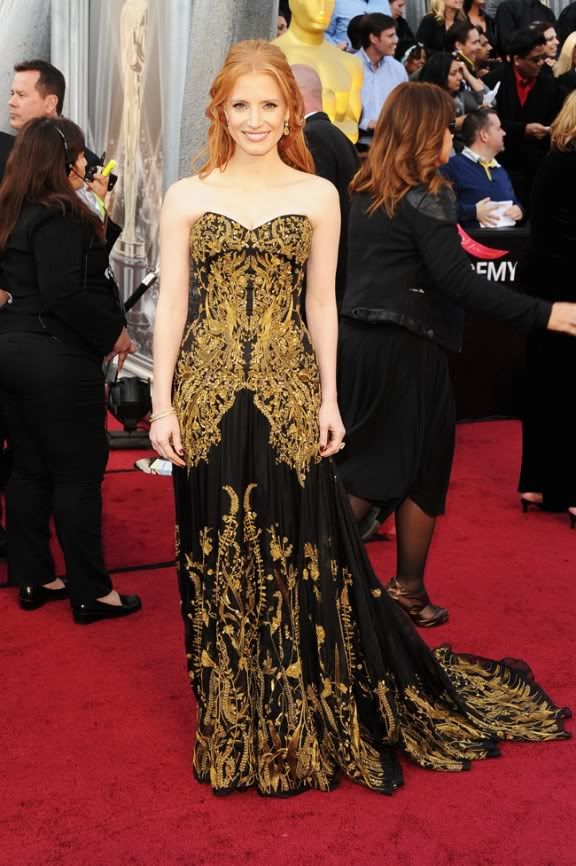 This intricate detailing in gold brocade / beading in a baroque design has been directly influential in many collections around the globe. It can be worn with black very easily, and voila! You will reign supreme in dramatic elegance.
Trend: GOLD BROCADE / OPULENT DETAILS
Zac Posen, Dolce & Gabbana, Vivienne Westwood

Who do you think was best dressed at the Oscars? Which of these trends are you most looking forward to wearing? I can't wait for Autumn weather in Australia!